Meet Dr. Jacquelyn Cortez-Sammons, DO

Medical Director – Restorative Medicine Services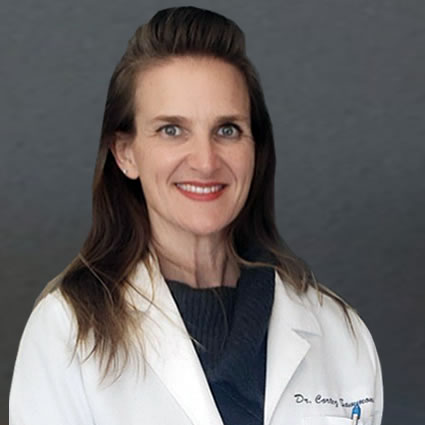 Dr. Cortez-Sammons believes in taking an outside-of-the-box, problem-solving approach to the health and wellness of her patients, and can't wait to get to know more about your goals as she crafts a natural plan for your needs.
At Health Pro Wellness Center, Dr. Cortez-Sammons hopes to educate patients about their bodies while helping to give them a fresh perspective on how to optimize function. She strives to dive deep for each patient she sees to help identify the root cause of the problem at hand instead of simply treating the symptoms. When she sees you, she vows to never take a 'cookie-cutter' approach to care–she knows that you are unique, and deserve specific care to help your body thrive.
An Education in Medicine
Educated in Southern California, Dr. Cortez-Sammons completed her undergraduate degree at California State University, Fullerton. She went on to earn a Doctor of Osteopathic Medicine from Western University of Health Sciences in Pomona, California, followed by an internship at the University of California, Los Angeles.
Later, she completed her residency training at the University of California, San Diego, before she returned to Orange County to practice.
Helping Patients Heal Naturally
With a love of learning, Dr. Cortez-Sammons has studied a multitude of paths to healing.
On a philosophical level, she believes that every dis-ease typically arises out of an unseen obstacle in the body. Her approach to care then becomes to remove that obstacle and help unlock the key to wellness. Dr. Cortez-Sammons sees the role of a physician as more of a facilitator of healing rather than an administrator of medicine. Every day in the practice, she recognizes and welcomes the fundamental role of the spirit, body and mind connection in restoring optimal health.
Although Dr. Cortez-Sammons has earned numerous credentials in traditional western medicine, she also performs osteopathic manipulations and appreciates the role of nutrition, exercise, and herbal or mineral supplements in health and wellness. She draws on her extensive training in traditional and integrative medicine to help her patients achieve optimal health.
EXPLORE PHYSICAL MEDICINE »
Learn More Today
If you're interested in scheduling a visit with Dr. Cortez-Sammons, she'd love to meet you. Contact our team today to speak about your goals and get started with an initial consultation.
We can't wait to welcome you into the practice.

Dr. Jacquelyn Cortez-Sammons | (714) 962-8818