Meet Dr. Kirby Baloy (PT, EdS, DPT, MS, CSCS)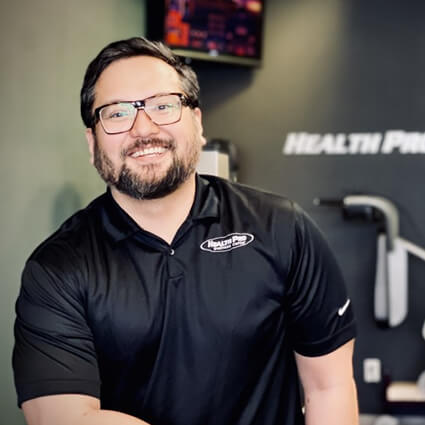 In 2000, Dr. Kirby received a bachelor's degree in physical therapy. Five years later, he advanced his education by earning his master's degree in exercise science. He went on to complete his doctoral studies in 2015. To continue providing the best patient care, he decided to get a therapeutic specialist certification, which he finished in 2019.
After completing his master's degree, Dr. Kirby came to the U.S. to visit his brothers. They suggested he try working in California to see how he liked it. Though he loved his previous job, he gave it a shot and ended up loving it.
A Person-Centric Approach
Dr. Kirby prides himself on offering individualized physical therapy. He will listen carefully to your history, present concerns and your goals. "Medical professionals have become so busy that they're distracted. So many people have been frustrated by their health care providers. I make a point to listen to my patients."
Understanding your pain means looking at the full picture of who you are. Dr. Kirby will work to figure out how your lifestyle factors into your problems and make sure you have the tools for everyday health. These may involve nutrition, movement or other therapies that allow you to be empowered and live without pain.
Chronic Pain Cases Welcome
It's particularly important to Dr. Kirby that he helps people with chronic pain. Though he originally intended to focus on orthopedics and sports, it was during his studies that he found a segment of the population that wasn't getting results. "People with persistent pain see doctor after doctor and don't get any better. I sincerely want to help this population."
Deep Expertise and Knowledge
Dr. Kirby has professional memberships with the American College of Sports Medicine, the American Physical Therapy Association, the American Physiological Society, and the American Society for Pain. He is a certified strength and conditioning specialist and a therapeutic pain specialist. Additionally, he is an advanced clinical instructor in physical therapy and teaches students who are studying to become a Doctor of Physical Therapy.
I love seeing people through their injury. They come in barely able to do the things they need to do, then are able to do all the things they love.
Book an Appointment
Dr. Kirby is married. In his spare time, he and his wife love to travel and see new places. Dr. Kirby trains in jujitsu, a Brazilian martial art.
Contact our team today to schedule your first appointment! We have same-day visits available.

Dr. Kirby Baloy | (714) 962-8818